Tweet
The United States Postal Service (USPS) has recently changed the price of stamps that affect many wedding invitations and save the date cards. If you have yet to mail your invitations you should be aware of these new rates. Here's a list of sizes and prices that have changed on April 17th, 2011:

• 1st class, 2 oz - $0.64 (previously $0.61)
• 1st class, 2 oz - odd size* - $0.84 (previously $0.81)
• 1st class, 3 oz - $0.84 (previously $0.78)
• 1st class, 3.5 oz - $1.04 (previously $0.95)
• 1st class, 4 oz - $1.48 (previously $1.39)
• Postcards, 1 oz - $.29 (previously $0.28)

First class 1 oz stamps will remain at $0.44. (See all 2011 postage rates)
*odd-size or non-machineable letters include envelopes with clasps or square envelopes.

Two New Wedding-Themed Stamps
On April 22nd, the post office will also release a new wedding-themed Forever® stamp featuring two white roses. While this is only a $0.44 stamp for one-ounce mail it does provide an additional wedding-themed stamp at face value (the rings stamp has been available since 2009) to the list of available choices. The old $0.61 wedding cake stamp is now a $0.64 stamp.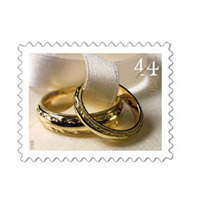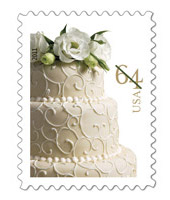 Custom Wedding Postage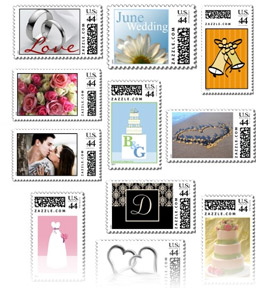 If you want your wedding invitations to convey a more personal touch, custom postage stamps are a great way to add your personality to the outside of your invites. With over 150,000 design choices, custom stamps continue to grow in popularity among engaged couples. Best of all, custom postage stamps are available for all first-class rates so you can enjoy wedding-themed postage stamps regardless of the size or weight of your invitation.
For more information on custom postage stamps for your wedding visit WeddingStamps.US where you'll find thousands of wedding stamps, rate information, and a weekly giveaway of $25 in custom postage.